Located right along the beach, Santa Cruz Beach Broadwalk is a famous sea-side amusement park. Among its list of rides, it also includes the classic 1924 Big Dipper roller coaster. Great deals on rides and refreshments are available. Parking spots are limited.
Located in Santa Cruz, California, West Cliff Drive is a popular hiking spot that offers beautiful views of the rocky beach and pounding surf below. Walking, biking and in-line skating are all permitted on West Cliff Drive.
Based in Santa Cruz, California, Roaring Camp Railroads offers a variety of railroad tours, exhibits and activities. It is famous for its magnificent Chanukah and Christmas displays. Tours during holiday season sell out quickly, and advance reservations are highly recommended.
2531 West Cliff Drive near Swanton Blvd.,
Santa Cruz
, CA
True to its name, Natural Bridges State Park contains natural rock bridges created by eons of water and wind erosion. The modern park is managed by the state and is a wonderful destination for adults and families.
There are lots of shops, restaurants and the Sea Lions at the end of the pier. Rent a boat or go on boat rides from Santa Cruz Wharf
The University of California at Santa Cruz is a major research institution with ten component colleges. It is most respected for its programs in medicine, biology, biological engineering and chemistry.
Adults and children with an interest in marine ecosystems must not miss the opportunity to visit the Seymour Marine Discovery Center. It is an active research institution and a public outreach facility dedicated to helping the community understand the importance of preserving marine environments.
465 Mystery Spot Road off Branciforte Dr.,
Santa Cruz
, CA 95065
The Santa Cruz Mystery Spot is a unique attraction that seems to defy the laws of physics, including gravity and liquid motion. The Mystery Spot is open throughout the year and is a wonderful destination for all ages.
West Cliff Drive at Lighthouse Point,
Santa Cruz
, CA
The water is warm at the Santa Cruz Surfing Museum. Surfers and beach babies enjoy the many exhibits dedicated to board design, safety practices and the physics behind successful surfing.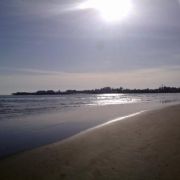 10
0.9 Miles
Santa Cruz Main Beach
Along Beach St. west from San Lorenzo River,
Santa Cruz
, CA
Santa Cruz Main Beach is a popular tourist destination. It is a clean and inviting beach with beautiful views of the ocean and marine life. There are also volleyball courts on the beach with an amusement park and many local restaurants/bars nearby.
1-10 of 173 things to do near Santa Cruz