Shipwreck Diving in Lake Erie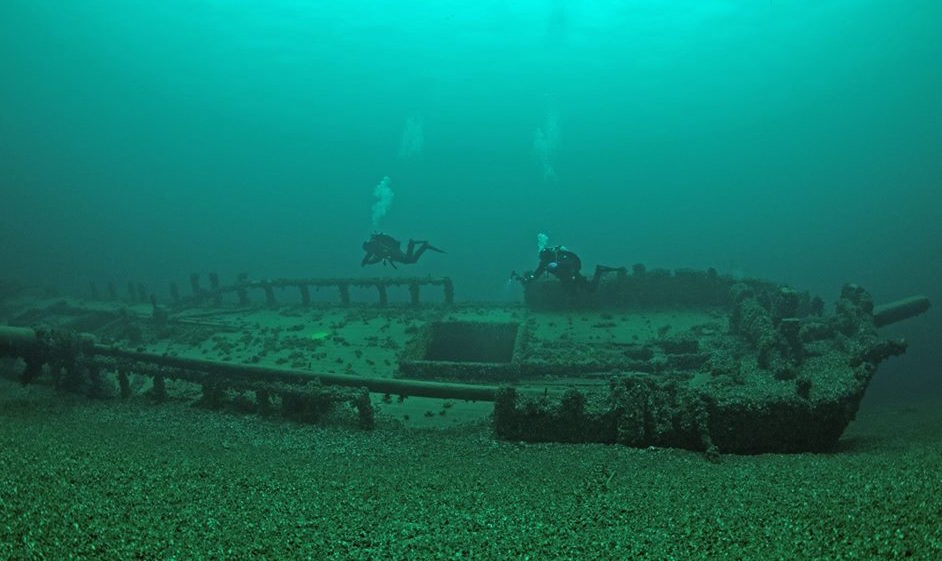 By Lissa Poirot
Before planes and trains, the Great Lakes served as a major thoroughfare for moving people and goods between the East Coast and the Midwest. However, the 1800s proved to be a treacherous time for ships without modern-day technology warning captains of shallow waters, rocky islands, and weather to avoid during their routes.
It is estimated that 6,000 ships have sunken in the Great Lakes, 2,000 of which are just off the shores of Cleveland, Sandusky, and Lake Erie's Islands of Ohio in Lake Erie. The storied pasts of the disasters off of Ohio's shores can be explored via dive exploration and tourism, with diving charters offering unique excursions into the eerie waters of Lake Erie. Unlike shipwrecks in the ocean, sunken ships in the Great Lakes are better preserved due to lack of salt corrosion and waves that can move ships.
Want to explore these shipwrecks of Ohio? These dive operators will help you get there, although a word of warning: the lake is cold in the summer, and you'll want full scuba gear to stay warm during your adventures!
Discovery Dive Charters & Tours
Accommodating six to 16 divers, Discovery charters depart from Wildwood Marina in Cleveland. You'll have to bring your own dive gear, but the charter provides lunch and beverages, digital recordings of your dive, and dive control specialists. Be sure to watch the documentary on Lake Erie shipwrecks before departing on your charter to uncover the history of the ships below. Wildwood State Park, E. 174th & Lakeshore Blvd., Cleveland, OH 44119, (216) 481-5771
Just Add Water
This outfits certifies divers in less than two weeks and organizes dive trips around the world. Its East Lake Erie full-day dive to wrecks in the shallow waters off of Ohio takes divers to depths of 80 and 100 feet. You'll visit Indiana, standing upright in 90 feet of water; Brunswick, upright in 100 feet of water; and three other dive sites on your daytrip. 36200 Euclid Avenue, Willoughby, OH 44094, (440) 942-7575
Char-Tom Charters Lake Erie Sportfishing Charters
Groups of four or less can join Char-Tom Charter on Lake Erie Scuba Diving tours around the Islands of Ohio. Offered June through August, the all-day charters provide dive masters to guide your way, and can also include lunch on your Coastal Ohio Trail dive tour. 2555 NE Catawba Rd., Port Clinton, OH 43452, (614) 419-8265
Randy's Dive Shop
Pennsylvania's shoreline also borders Lake Erie, and Randy's has been taking divers to shipwrecks for more than 30 years. Lake Erie dives run along the coast of Ohio and Pennsylvania, as well as Niagara River and inland diving sites like reservoirs and quarries. 529 Sandy Hill Rd., Irwin, PA 15642, (724) 863-0752
Special Shipwrecks and Scuba – Divers can also take part in the annual Shipwrecks and Scuba event at Kalahari Resort in Sandusky, Ohio. Highlighting dives across all five of the Great Lakes, the annual show takes place this year in November.