Savor the Shore's Best Shrimp at These 10 Gulf Shores Eateries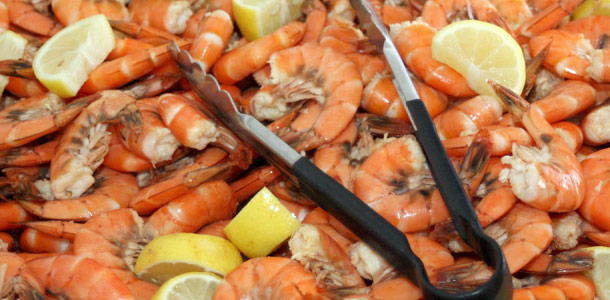 By Lissa Poirot
1. The Flying Harpoon
112 Windmill Ridge Road, Gulf Shores, AL 36542
You'll find fresh Alabama Gulf shrimp, hand-peeled and deveined, soaked in buttermilk, and dusted in corn flour with a dash of New Orleans' seasonings before a 60-second flash fry to produce a shrimp basket you can't resist. The Bayou-styled restaurant is the only place you'll find true New Orleans' style shrimp Po'boys seven days a week until 1 a.m.
2. Bahama Bob's Beach Side Café
601 West Beach Blvd., Gulf Shores, AL 36542
After a hurricane nearly sank his boat and ended his life in the Bahamas, namesake owner Bahama Bob celebrated his survival with a Bahamas bender filled with rum. Returning to the States, he opened his version of Bahamian paradise on the Gulf Shores that include Bimini-style steamed and grilled shrimp dishes. You'll also find popcorn shrimp, shrimp salad, and cold shrimp salads and shrimp cocktail.
3. Original Oyster House
701 Hwy. 59, Gulf Shores, AL 36542
Overlooking Mobile Bay where you can watch shrimp boats coming in with the hauls you'll be eating, the shrimp doesn't get much fresher than at the Original Oyster House. Easy peel and eat shrimp, Cajun popcorn shrimp, deep fried shrimp, shrimp Po'boys, boiled shrimp, shrimp scampi, shrimp au gratin, shrimp alfredo, blackened shrimp, shrimp Florentine, steak and shrimp… are we beginning to sound like Bubba rattling off all the ways you can eat shrimp to Forrest Gump?
4. Sea-n-Suds Restaurant
405 East Beach Blvd., Gulf Shores, AL 36542
Enjoy beachfront dining at the Sea-n-Suds, where you'll overlook the Gulf, drink a beer, and enjoy fresh shrimp. Sit back and nosh on steamed and fried shrimp and platters as the sun sets and you take in the sea breezes. You just can't beat the combination.
5. DeSoto's Seafood Kitchen
138 West 1st Ave., Gulf Shores, AL 36542
Locals love DeSoto's so much, it has been voted the best lunch and dinner spot in Gulf Shores for nearly 15 years straight. The family-owned restaurant makes its dishes from scratch using locally sourced seafood, of which shrimp dishes range from shrimp and pasta marsala to shrimp remoulade to coconut shrimp to crab and shrimp bisque to butterfly shrimp to stuffed shrimp to grilled skewer shrimp to shrimp creole to shrimp lovers' platters … and, we're doing it again, aren't we?
6. The Steamer & Baked Oyster Bar
124 West 1st Ave., Gulf Shores, AL 36542
You'll drool over the steamed seafood trays with mounds of seafood straight from the Gulf at The Steamer. Shrimp salads, trays, platters, sandwiches and pasta dishes give you every choice under the sun… except fried. Nope, the owners don't believe in spoiling the taste of seafood in a fryer so come to this quaint spot for seafood the way it's meant to be enjoyed.
7. Bill's by the Beach
300 West Beach Blvd., Gulf Shores, AL 36542
As its name implies, you'll be dining right by the beach at Bill's, where he serves up wild-caught shrimp along with a wine list of more than 115 selections. Sip away as you enjoy a sunset and Southern classics with a seafood twist, such as fried green tomato and shrimp and shrimp and grits with succotash.
8. Doc's Seafood Shack and Oyster Bar
1140 Gulf Shores Pkwy., Gulf Shores, AL 36542
Nothing beats flip flops and seafood shacks, and Doc's has been ranked one of the best, not just in Alabama, but across the country. For more than 30 years, Doc's has been the place to go for fried and steamed seafood, and you can create your own shrimp platter or order a shrimp loaf, shrimp salad, and Doc's famous fried shrimp. You can thank us later.
9. King Neptune's Seafood Restaurant
1137 Gulf Shores Pkwy, Gulf Shores, AL 36542
Having grown up in Gulf Shores, owner Al Sawyer and his wife bring their love of local and fresh seafood to visitors and friends alike, especially deep-water shrimp from the Gulf of Mexico. With one of the largest menus of shrimp dishes in the area, grilled, steamed, and fried platters are available, along with Po'boys, shrimp fillets, chipotle shrimp skewers, shrimp creole, etoufee, shrimp tacos, blackened shrimp, scampi, and more.
10. Gulf Shores Seafood
921 Gulf Shores Pkwy., Gulf Shores, AL 36542
For more than 60 years, Gulf Shores Seafood has been the go-to for picking up raw seafood to bring home for meals. Renting a vacation home on Gulf Shores? Then definitely call and order from the extensive and uber-fresh selection of fresh Gulf shrimp to prepare at home. Or, request the Low Country Boil for cooked-ahead meals.